This is an archived article that was published on sltrib.com in 2014, and information in the article may be outdated. It is provided only for personal research purposes and may not be reprinted.
For weeks, state education leaders have been bracing students, parents and teachers for the results of Utah's first SAGE test, which were released Monday.
And based on the first battery of scores from the computer-adaptive test, Utah students are falling short of grade-level proficiency.
Overall, 41.7 percent of Utah students tested proficient in English language arts, with 38.7 percent proficient in mathematics and 43.7 percent proficient in science.
Parents can see how their children's schools performed by clicking here.
Nearly four dozen schools had entire grade levels or topics where at least 90 percent of students were proficient on certain subjects. For instance, nearly 96 percent of biology students at Utah County Academy of Science were proficient.
About 50 schools scored below 10 percent proficiency on at least one subject.
And 63 Utah schools had too few students in school to get a percentage.
In Salt Lake County, Canyons and Jordan school districts scored above the state average. Granite and Salt Lake City school districts fell below the state average. And Murray School District saw above-average proficiency in English and science, but below-average rates in math.
"I think most people are a little shocked at how hard the standards have been and they look at this as a real wakeup to what the standards are requiring," said Rob Averett, director of student assessment for Granite School District.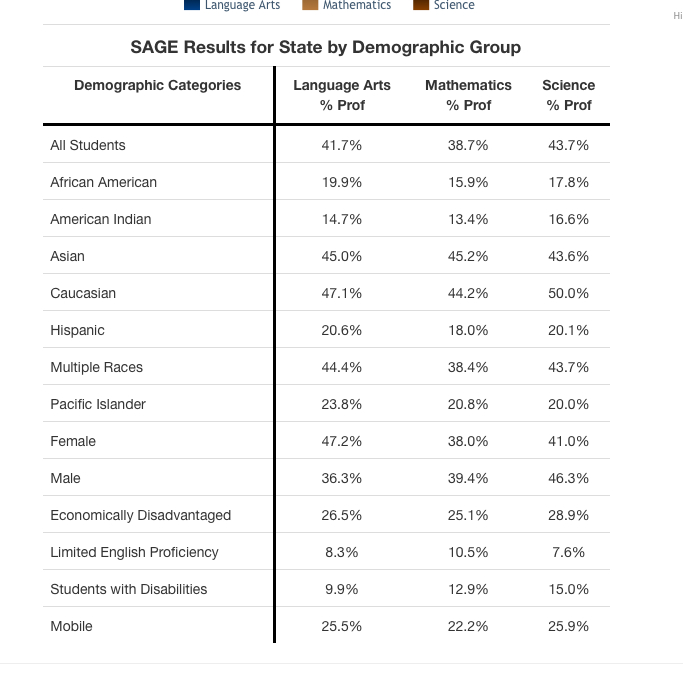 For the past six months, state education officials have reiterated that scores from Utah's SAGE test cannot be compared to scores from previous year-end assessments.
The test is new, with an unfamiliar computer-adaptive format, and based on an updated set of grade-level expectations aimed at measuring college- and career-readiness.
Despite those disclaimers, the SAGE scores were a disappointment for many educators.
Statewide, Ogden School District had the lowest average proficiency rate — a 20.3 percent districtwide in math.
Students in Morgan School District earned the highest average proficiency rate — a 61.7 percent in science.
At Orem's Cherry Hill Elementary, fifth- and sixth-graders in its accelerated program achieved better than 90 percent proficiency across the board. Seventh- and eighth-graders in similar programs at West High and Provo High also had such high scores.
Bright spots were countered by lows.
For example, Utah's fourth-graders were the most likely to reach grade-level expectations in math, with 47.5 percent testing proficient.
At the same time, high school-aged students caught in the transition to new standards struggled the most, with only 27.3 percent of students mastering Secondary Math II, a junior-level course.
Parents will have a chance to review individual SAGE scores for their students and schools in November when teachers hand out a new report card.
Associate State Superintendent Judy Park said that previous tests presented students with multiple choice questions, which allowed students to make guesses when they were unsure of the answers.
Just half of the SAGE test is multiple choice, she said, with the remaining questions asking students to reason through a problem without being presented with possible solutions.
Park said that comparing a student's performance on SAGE to their score on the state's previous assessment — the CRT test last completed in the spring of 2013 — would be like comparing a runner's time in a sprint to an event with hurdles.
"It doesn't mean the student is less capable," Park said. "It means our expectations have changed."
But those heightened expectations have resulted in what Park calls a "new reality" of student performance, where less than half of kids measure up.
School administrators were granted advance access to the scores through a secure system but were not able to disclose their school's performance until after Monday's public release.
Granger High School in Granite School District had single-digit proficiency rates in mathematics, with just 7.7 percent of students meeting the benchmark for proficiency.
Averett said that variables such as demographic diversity play a role in student scores. But, he added, the West Valley High School's scores were lower than what past test performances might have projected.
"That is below what we were certainly expecting for them," he said.
Students at Granite's Hillsdale Elementary School, also in West Valley City, earned proficiency rates of 14.4 percent, 18.2 percent and 20.1 percent in science, English and math, respectively.
But Hillsdale fifth-grade teacher Susan Veatch said she'd be worried if the scores hadn't dropped, given the changes made to Utah's core standards and the year-end testing system.
"They won't leave us alone for more than three years at a time before they hand us something new, so the scores will be low," she said. "I'm not worried about it at all. It is what it is."
But Yvonne Buhler, a teacher at Legacy Junior High School in Davis County said she was excited to see how her students performed on the test.
Overall, Legacy Junior had proficiency rates of 33.6 percent in science, 40.2 percent in math and 43.3 percent in English.
"This is the first end-of-level assessment that I think actually measured our core (standards) and I'm curious to see if I did a good job of getting the core across," she said.
Eastmont Middle School Principal Stacy Kurtzhals said she was pleased with her school's performance, particularly in science. The school's overall science proficiency rate was 63.5 percent. Eastmont eighth-graders performed even better — at 72.6 percent proficient.
Unlike in math and English, Utah's standards for science have not changed. But the computerized format of SAGE requires students to perform more analytical tasks rather than choose from provided answers.
Kurtzhals said educators need to be proactive about explaining the new test scores to parents and reviewing the data to find ways to improve.
"How are we going to raise these scores?" she said. "That's the important part."
But some educators have questioned the efficacy of releasing the scores so late in the year.
Veatch said it was "ridiculous" to hold the scores until October, after schools had already held fall parent teacher conferences.
"It's a joke," she said. "It really is a joke coming out this late."
Park said this spring — and next month for those school districts that choose to participate in SAGE mid-year testing — teachers will have access to scores immediately after students complete their tests.
Craig Pitts, a sixth-grade teacher at Jim Bridger Elementary in Granite School District, said having immediate scores would help him make classroom decisions.
"I understand that it's the first time using it and they have to get all the glitches out," he said. "I'm hoping next year we get it before the school year starts."
In December, school accountability reports, including controversial school grades largely based on SAGE data, will be released.
Want to know how your school did? Visit the SAGE website — https://datagateway.schools.utah.gov/SAGE — to see a breakdown of your student's school and comparisons to the school district and state.
If you find a score that seems unusual or worth exploring further, contact education reporter Benjamin Wood at bwood@sltrib.com. —
Top 10 SAGE scores for schools **
(percent of students proficient)
Bonneville Elementary (Salt Lake) language arts, 81.4%
NUAMES (h.s. charter, Layton) science, 79.9%
Bonneville Elementary (Salt Lake) math, 78.3%
Granite Elementary (Canyons) science, 78.1%
Valley View Elementary (Davis) language arts, 77.2%
Uintah Elementary (Salt Lake) math, 77.1%
UCAS (h.s. charter, Orem) science, 76.3%
Success Academy (h.s. charter, Cedar City) science, 75.7%
NUAMES (h.s. charter, Layton) language arts, 75.6%
Sunrise Ridge Intermediate (Washington) science, 75.4%
** An accelerated program for some of the fifth- and sixth-graders at Orem's Cherry Hill Elementary scored above 94 percent in the three topics.
Bottom 10 SAGE scores for schools
(percent of students proficient)
Horizonte* (Salt Lake) math, 1.8%
Utah International (jr./h.s. charter, South Salt Lake) math, 2% or lower
Utah International (jr./h.s. charter, South Salt Lake) science, 2% or lower
Monument Valley High (San Juan) language arts, 2% or lower
Landmark High* (Nebo) math, 2% or lower
Valley High* (Jordan) math, 2% or lower
Whitehorse High (San Juan) math, 2.3%
Granite Connection High* (Granite) science, 2.7%
Granite Connection High* (Granite) language arts, 3.1%
Monument Valley High (San Juan) math, 3.2%
*Denotes alternative high school