This is an archived article that was published on sltrib.com in 2016, and information in the article may be outdated. It is provided only for personal research purposes and may not be reprinted.
Rep. Mia Love is in trouble, according to a new Salt Lake Tribune-Hinckley Institute poll, which shows the freshman Republican trailing Democrat Doug Owens by 6 percentage points in Utah's highly watched 4th Congressional District.
Owens, an attorney who lost to Love in 2014, notched 51 percent in the SurveyUSA poll while Love, the former mayor of Saratoga Springs, received 45 percent. Only 4 percent of respondents said they were either undecided or would support a third-party candidate.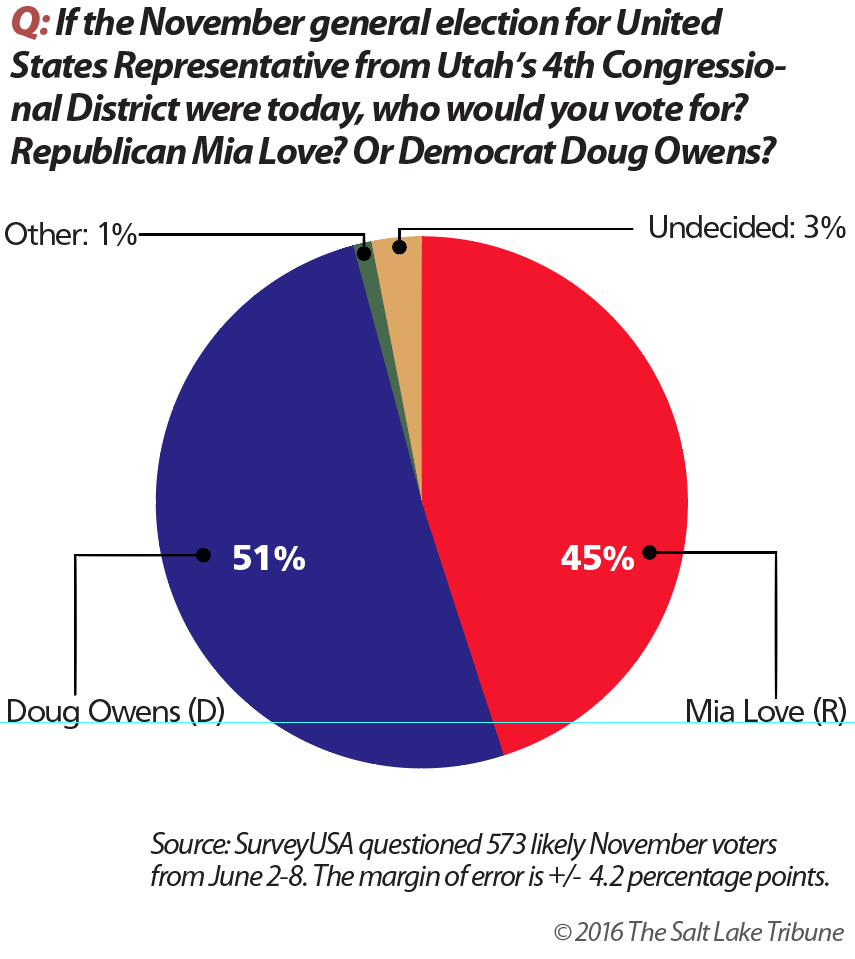 The results surprised both campaigns, with Love's camp immediately questioning their validity.
"I don't believe the numbers, to be honest with you," said Dave Hansen, Love's campaign strategist. "The numbers just do not make sense."
The Tribune-Hinckley poll involved 573 likely general election voters contacted mostly through robocalls between June 2 and 8. The results have a margin of error of 4.2 percentage points.
"I'm excited by the outpouring of support from my fellow Utahns. It's clear that voters want a change," Owens said in reaction to the poll. "I'm not taking anything for granted. We're working hard every day for every vote."
SurveyUSA's Jay Leve believes the presidential race is playing a factor in the Love-Owens showdown, with the survey coming during a period when Donald Trump faced broad backlash for racist remarks toward a federal judge of Mexican heritage, who is handling a fraud case involving Trump University. Also, during this period Hillary Clinton clinched the Democratic nomination.
He said he expects "an evolution in the polling" over the next five months, but as of now: "Mia Love has a tough road to her re-election."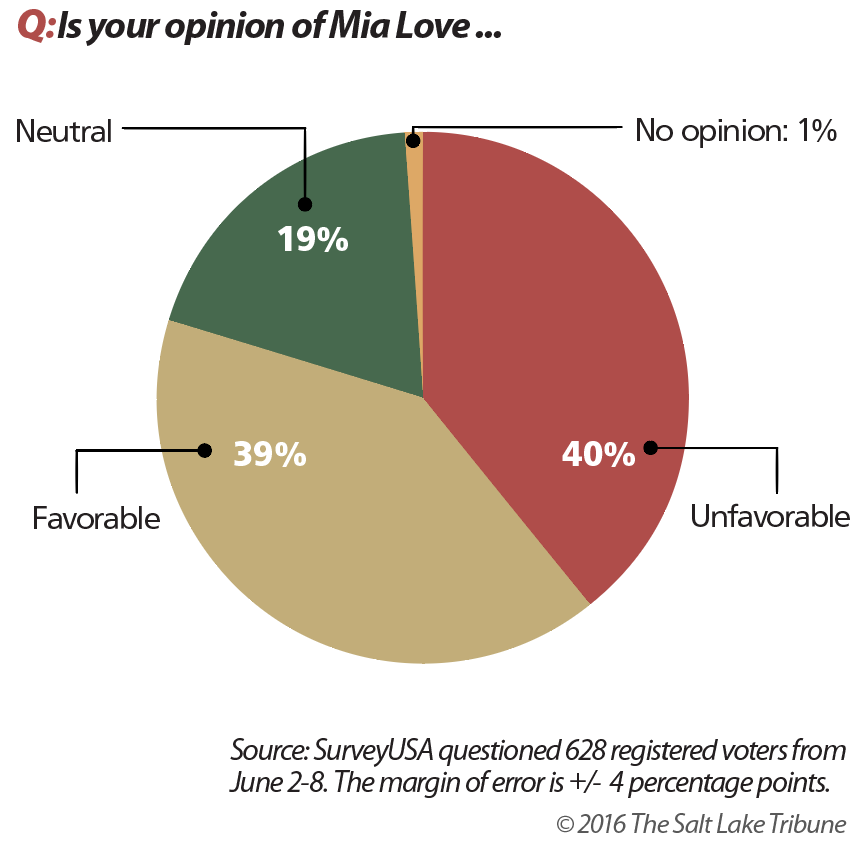 It doesn't help that only 39 percent of respondents to the Tribune-Hinckley poll had a favorable opinion of the first-term congresswoman, while 40 percent had an unfavorable opinion, 19 percent were neutral and 1 percent had no opinion.
Love has been involved in two bruising races, which may explain her poor favorability numbers. She lost narrowly to Rep. Jim Matheson, D-Utah, in 2012 and beat Owens by about 5 percentage points in 2014, in what was a tighter race than expected.
This time around Owens has more support from the national Democratic Party, which will help him close the fundraising gap. He was feted Thursday at a Washington, D.C., fundraiser by House Minority Leader Nancy Pelosi, D-Calif., and her leadership team.
His campaign has attempted to paint Love as a national celebrity, more interested in furthering her career than working for her district.
But Hansen said that's just spin.
"I expect that she is going to win, and she is going to win significantly," he said. "This is a race that is going to be decided more on the job she is doing as a member of Congress, and she is doing a very good job."
Love, who is the first black Republican woman elected to Congress, has spent much of her time focused on the Financial Services Committee. She's also held a role on a select committee investigating Planned Parenthood.
She has kept a relatively low profile, but The Washington Post included her on a list of 35 potential Trump running mates. She said she was not interested.
The poll found that Love did well with young voters, but poorly with independents (down 54 percentage points) and moderates (down 32 percentage points).
The random-sample survey was conducted among a pool of respondents who were 33 percent Republican, 23 percent Republican-leaning independents, 20 percent Democratic, 14 percent independent-leaning Democratic and 9 percent independent.