This is an archived article that was published on sltrib.com in 2016, and information in the article may be outdated. It is provided only for personal research purposes and may not be reprinted.
West Valley City • Jay Stevens insists he's a husband, father and firefighter. Not a professional hockey player.
For a brief, shining moment last week, however, Stevens lived a dream, played like an All-Star and became a social media sensation at every level of the sport.
He calls it "my 15 minutes of fame."
For the last 16 years, Stevens has been on-call as an emergency back-up goaltender for the Grizzlies and other ECHL teams playing in Utah.
He never played in games. He never expected to play.
Instead, Stevens stays connected to the sport he loves by practicing with the Grizzlies and occasionally dressing for games, when injuries or call-ups dictate the need for a warm body at the arena.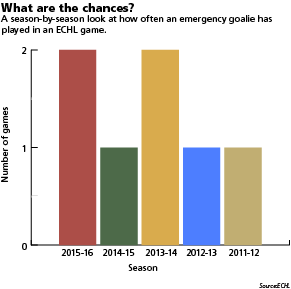 He is a Designated Survivor on skates — one who, at the age of 43, is nearly twice as old as the players flying around him.
"My wife asks me all the time, 'Why do you keep doing this?'" Stevens says. "I just love it. … So I keep doing it and they keep letting me. I do OK. I don't embarrass myself. At least I hope I don't. I just go and have fun with it. It's a good workout and I need to stay in shape for work."
Stevens got his first chance to play — ever — in last Saturday's 3-2 win over Rapid City.
With Grizzly goaltender Ryan Faragher already injured, Ryan McKay started against the Rush. The game was tied in the third period, when a puck smashed into McKay's face mask. He was helped off the ice and needed 11 stitches to close a wound over his eye.
On the Grizzlies' bench, it dawned on Stevens: 'I'm going to play.'
"It was weird," he said, "because it was 'Star Wars Night' and everybody knows I'm a complete Stars Wars geek. … We joked around about that a little bit at home — my wife, my son and I. They said, 'If you're ever going to get in, it's going to be on 'Stars Wars Night.' But, of course, they didn't come to the game."
When McKay was injured, Stevens said, "The first instinct for me was as a paramedic, not as a hockey player."
"I was like, 'Oh, crap. There are 7,000 people here and they all know me,'" Stevens said. "Hockey is a tight community here and it was a highly-contested game. There were fights. They were really fighting for those points. All of a sudden, I knew I was going in."
Stevens skated onto the ice and had a little extra time to focus on his task because arena workers were cleaning up the blood in front of the Utah goal.
Several Grizzly players skated up to Stevens and offered support. Defenseman Evan Stoflet told him, "It's just another game."
"So I just tried to play hockey," he said.
For 10 1/2 minutes, Stevens stopped seven shots. He helped the Grizzlies survive two Rapid City power plays.
"Jay definitely outperformed my expectations," coach Tim Branham said. "We didn't expect to put him in and he stood tall and held down the fort. He did a great job — really lifted the team up. He was calm, cool and collected the whole time. Had a big smile on his face at the end."
McKay eventually returned but, by the time the game ended, Stevens was already a social media sensation. Video of his improbable exploits had been quickly posted on the internet. Facebook and Twitter were buzzing.
In the last few days, Stevens has heard from hundreds of family members, friends and former teammates. Some NHL players also reached out after his story was documented by the NHL Network and USA Today.
Not bad for a guy who spends 56 hours a week at the fire station. Or a guy with a personalized license plates on his SUV that read "SIEVE."
According to Stevens, he started playing hockey as a sophomore at Murray High School. A friend's father was the coach.
"I've been involved in it ever since," he said.
After graduating, Stevens went to junior college in North Dakota. He transferred to Weber State and later the University of Utah, where he played on club level teams.
Stevens wanted to play professionally, but a handful of tryouts made him realize his other dream — being a firefighter — was the wisest path.
During his "third or fourth shift" after being hired by Salt Lake County, however, fate intervened.
The Grizzlies needed an emergency back-up goalie. He took the job, which works partly because his friends at the firehouse always are willing trade shifts when the Grizzlies call.
When did Stevens know he wanted to be a firefighter?
"Honestly, I think it started watching 'Emergency' on TV," Stevens said. "I loved that show. I loved the scenes were they were really needed. … I love being the person that somebody else needs and being trained well enough to help them."
In many ways, being a firefighter is like being the member of a hockey team.
"The camaraderie is the same. So is the chirping," said Stevens, who has gotten a lot of good natured teasing about his attention-getting performance last week.
"… But as much as they made fun of me for being the only guy out there with gray hair," he said, "they were excited."
Stevens was back at the Maverik Center on Wednesday night, when the Grizzlies played Toledo. But because one of the Walleye goaltenders was ill, he was Toledo's emergency back-up.
"For me, it's just part of it," Stevens said. "Three years ago, I was on the Grizzlies roster for, like, 25 straight games. I showed up for practice one day and found my gear in the other locker room. I was on the Stockton Thunder. I sat the bench against the Grizzlies. So, either team."
P Stevens, 43, is an emergency back-up goaltender for the Utah Grizzlies.
• In 16 years, he never played until last week's 3-2 win over Rapid City.
• Stevens played 10 1/2 minutes against the Rush. He did not allow a goal.
Utah Grizzlies vs. Toledo Walleye