This is an archived article that was published on sltrib.com in 2016, and information in the article may be outdated. It is provided only for personal research purposes and may not be reprinted.
In 2016, The Salt Lake Tribune paid us to review more than two dozen of Utah's newest restaurants.
In return, we let readers know if the food and experience were worth their time and money.
Our experiences were mixed: Most restaurants were good; a few were not. Several were standouts, offering items worthy of being named to our list of Best Dishes of 2016.
Our year-end list includes a few globally inspired dishes with flavors from Greece, India and Mexico. This year, we also drooled over pork shank, pork belly, pasta and even an all-American hamburger with Asian fusion. A few seafood dishes — think seared scallops and smoked trout cakes — also made us swoon.
Take a closer look at the nine dishes we especially enjoyed this year and hope to revisit in 2017 and beyond.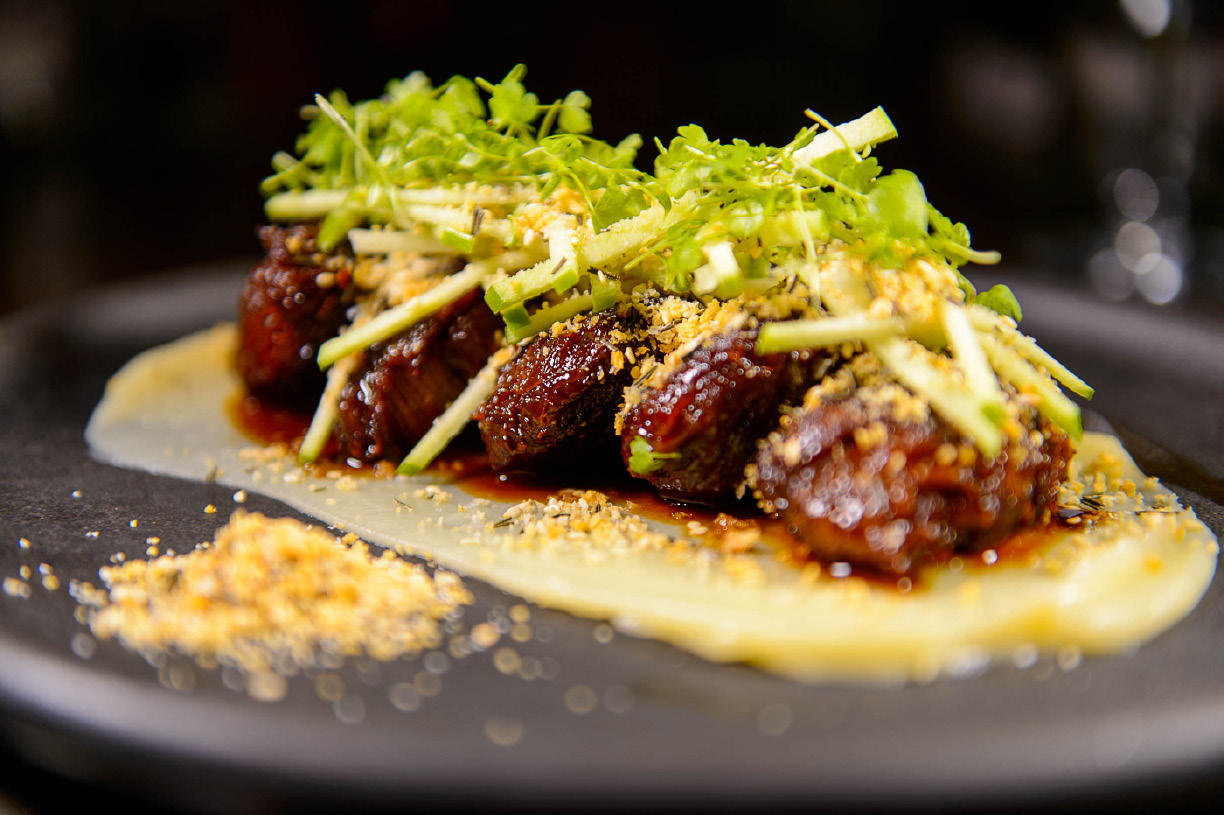 Pork belly is usually a starter or small plate on restaurant menus, so imagine my joy this summer when I found an entrée-sized version ($26) at this posh Park City spot. A perfect rectangle of fatty meat was served atop creamy puréed celery root, dressed for dinner in a handful of sweet, tangy bing cherries and their reduced juices. The perfect counterpoint to the meat's richness came from sautéed greens and golden roasted turnips. It was sinfully rich, but worth every succulent bite. The menu changes seasonally at Tupelo, and the pork belly has come and gone, but whiskey-glazed pork cheeks ($34) now on the menu sounds like a worthy stand-in. Whatever you order, don't skip the biscuits. AW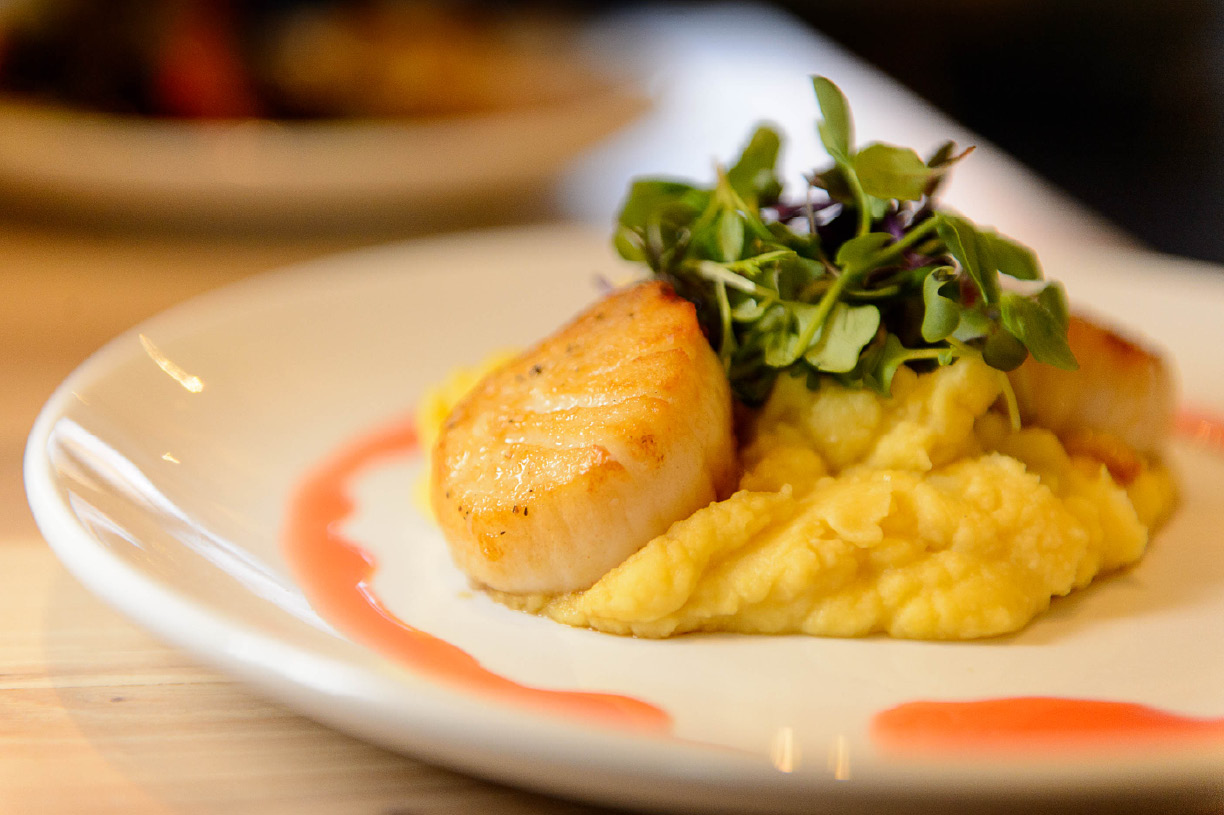 This is Salt Lake's hottest new Greek restaurant — and for good reason. For one, chef and owner Manoli Katsanevas has perfected the art of seared scallops, found on the restaurant's meze menu as htenia ($12). The meaty mollusks are presented sitting atop a tangy yellow split-pea purée dressed with a flourish of citrus-ouzo vinaigrette and fresh micro greens for a palate-pleasing surprise. HLK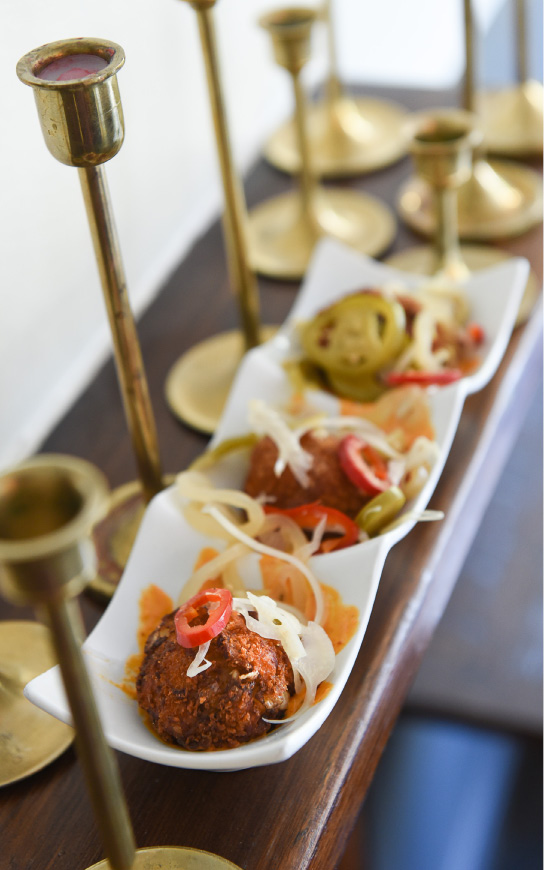 I'm a big fan of crab cakes, but trout cakes ($8) was a twist on a classic that I hadn't tried until Trestle Tavern opened early this year. This neighborhood joint specializes in Bohemian-inspired food and beer to complement it. It's not fussy, but these crisply fried gems, which are moist and dense inside, are truly inspired. You can taste the fish, but the flavor isn't fishy. Perhaps it's the finishing touches of pickled fennel and red pepper aioli that do the trick. They're a good start to any of the other items on the Trestle menu, whether it's goulash, a gourmet burger or the mustardy pork schnitzel sandwich. AW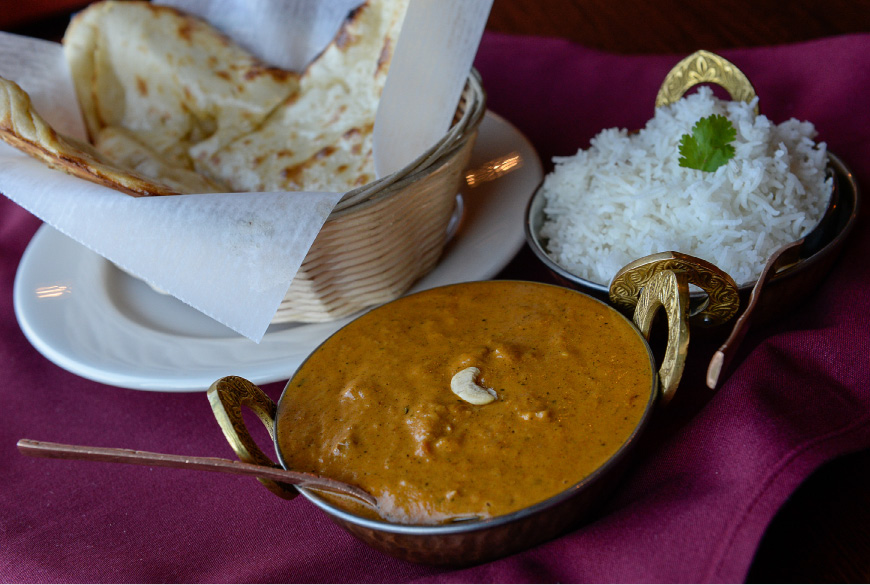 This classic Indian dish ($12.99) expertly celebrates coriander and cumin spices (plus ginger and garlic) while tender braised lamb chunks are in plentiful supply in the tangy tomato coconut cream sauce. Pair the dish with butter naan ($2.59) served hot from the clay oven tandoor to scoop up any remainders of the korma's mildly spiced sauce. HLK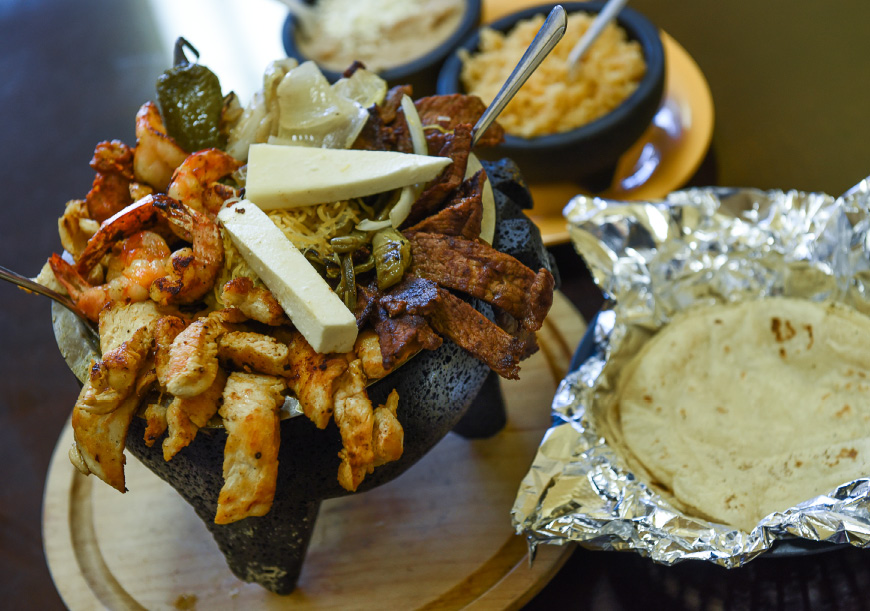 This tiny eatery, squeezed between a barbershop and a Latin market, isn't a destination restaurant. But if you're ever in the neighborhood, preferably with friends, you would be foolish not to stop and sample this eye-popping dish, named for the lava rock bowl in which it's served ($14.99). It is literally overflowing with grilled chicken, shrimp and steak, but there's an unseen pool of goodness underneath. Use the fresh steaming tortillas to sop up the cheesy, piquant green sauce and mix it with the excellent refried beans that come with it. Depending on how many friends you bring, you might not need to eat again all day. AW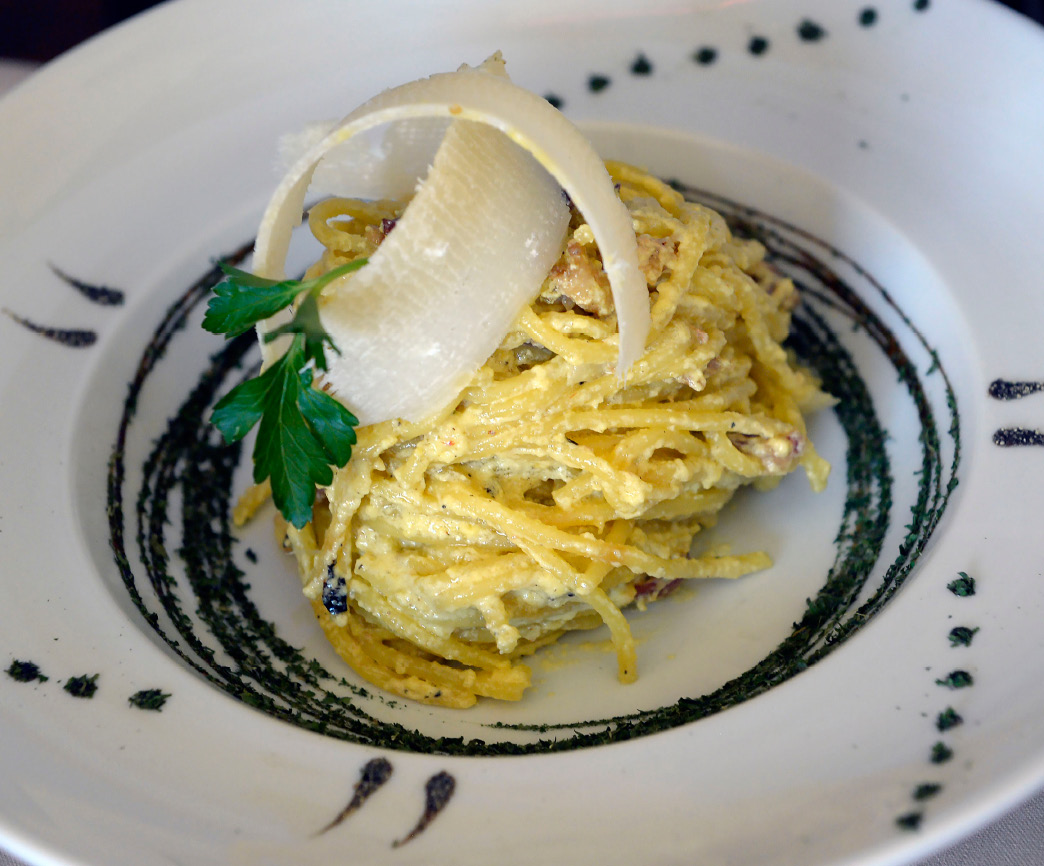 In the center of this Millcreek eatery sits a half wheel of Parmigiano Reggiano. Order the spaghetti alla carbonara ($19.95) and you'll get to see it put into action. First, fresh spaghetti noodles are tossed in the kitchen with pancetta and an egg mixture and then brought center stage where it's twirled around in the flaming cheese wheel to pick up melting bits of Parmigiano and then plated in a bowl artfully garnished with balsamic and parsley. Thin shaves of Reggiano carved from the wheel are placed on top of the pasta before serving. HLK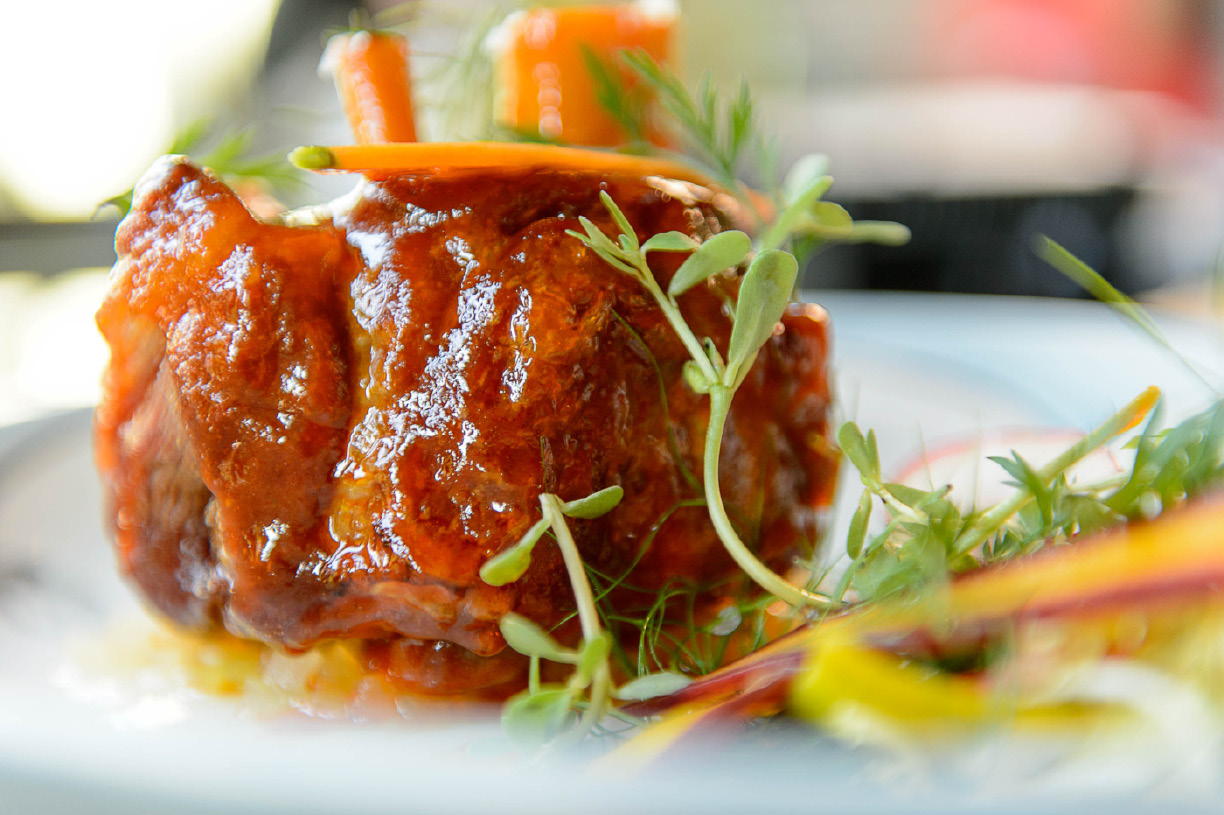 When I first sampled this carnivore's dream ($32 ), it was served on the bone, which made a perfect handle for swiping it through a dollop of whipped house-made ranch dressing. It was like a buffalo-style chicken wing, but with pork. It's undergone some refinements, including a new name (Frank's red hot sauce glazed pork shank), but I'm betting it's still as impressive. I never saw anyone actually grab the bone and gnaw on it, but it's perfectly acceptable to shave off bites so you can share with the table. Carrot and celery curls are part of the fun. AW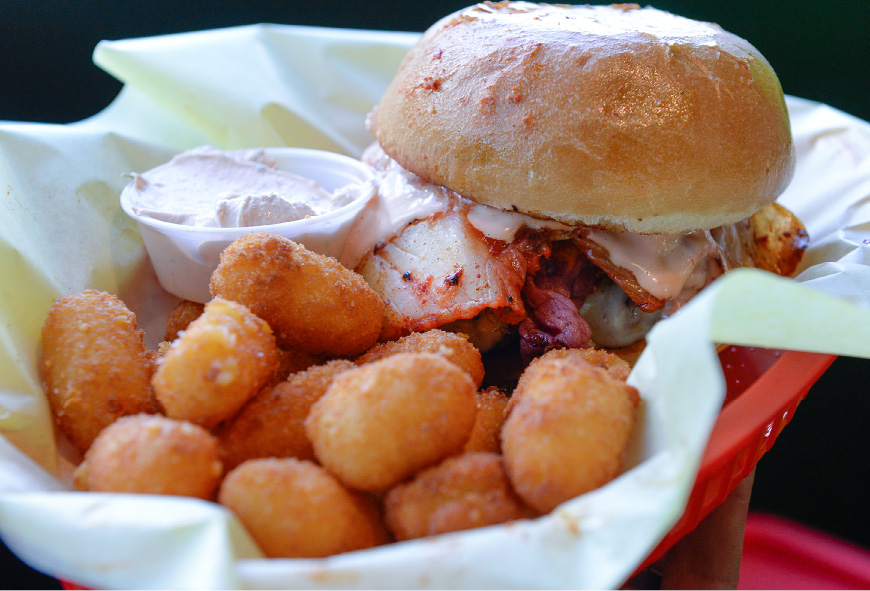 Chedda Burger is no ordinary downtown burger joint, and neither are the hamburgers. Spicy kimchi takes center stage on the Silly Round Eye burger ($7.99), topping a fresh beef patty loaded with meaty pastrami and melted Swiss cheese. Hand-rolled Chedda tots — tater tots stuffed with cheddar cheese — are fried to crispy golden perfection and served with a side of cilantro chipotle dipping sauce ($3.49). HLK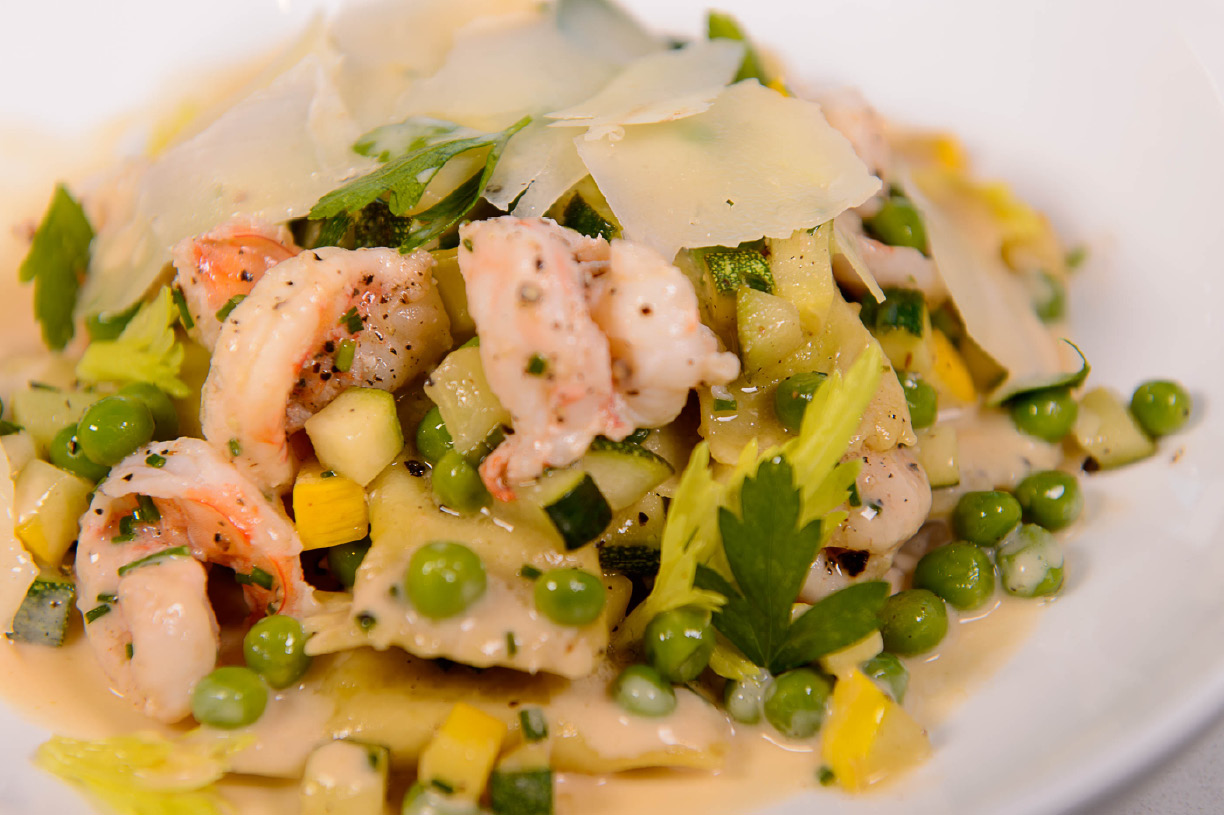 When Faustina closed and was reborn as Stanza, the extensively remodeled place debuted with a new menu of pastas and other traditional Italian classics. One of the best features small pillows of pasta stuffed with puréed peas, ricotta and lemon zest ($23 ). Those edible pillows float on a pink pool of shrimp-infused sauce and share the bowl with fresh peas, sliced asparagus and grilled whole shrimp. Large shavings of Parmesan provide a crowning touch for a meal that is packed with flavor but tastes light and fresh. AW
Where to find our 2016 favorites
Chedda Burger • 26 E. 600 South, Salt Lake City; 801-448-6116 or cheddawasted.com; Monday-Thursday, 11 a.m.-8:30 p.m.; Friday and Saturday, 11 a.m.-10 p.m.; closed Sunday
Everest Curry Kitchen • 68 E. 10600 South, Sandy; 801-571-4015 or everestcurrykitchen.com; Monday-Saturday, 11 a.m.-10 p.m.; Sunday, 4-8 p.m.
HSL • 200 S. 418 East, Salt Lake City; 801-539-9999; Sunday-Thursday, 5-10 p.m.; Friday and Saturday, 5-11 p.m.
Los Molcajetes • 4031 W. 4100 South, West Valley City; 801-875-2838; Monday, 11 a.m.-8 p.m.; Tuesday-Thursday, 10 a.m.-9 p.m.; Friday and Saturday, 9 a.m.-10 p.m.; Sunday, 9 a.m.-8 p.m.
Manoli's • 402 E. 900 South, #2, Salt Lake City; 801-532-3760 or manolison9th.com; Tuesday-Sunday, 5-10 p.m.; Saturday and Sunday, 11:30 a.m.-3 p.m.; closed Monday
Sicilia Mia • 4536 Highland Drive, Millcreek; 801-274-0223 or facebook.com/Sicilia-Mia; Monday-Thursday. 10 a.m.-9 p.m.; Friday and Saturday, 10 a.m. to 9:30 p.m; closed Sunday
Stanza Bistro & Wine Bar • 454 E. 300 South, Salt Lake City; 801-746-4441; Monday-Friday, 11 a.m.-10 p.m.; Saturday, 5-10 p.m.
Trestle Tavern • 1513 S. 1500 East, Salt Lake City; 801-532-3372; lunch, Monday-Friday, 11 a.m.-2 p.m.; dinner nightly, 5-10; brunch, Saturday and Sunday, 11 a.m. -2 p.m.
Tupelo • 508 Main St., Park City; 435-615-7700; lunch, Wednesday-Saturday, 11 a.m.-2:30 p.m.; après ski daily, 2:30-5 p.m.; dinner daily, 5-10 p.m.; late night daily, 10 p.m. to close; Sunday brunch, 11 a.m.-2:30 p.m.