This is an archived article that was published on sltrib.com in 2017, and information in the article may be outdated. It is provided only for personal research purposes and may not be reprinted.
The Bears Ears National Monument wasn't the only thing new to San Juan County last year. Enough new residents settled there to make it America's fastest-growing county.
"We seem to be in the spotlight for a lot of things these days," said San Juan County Commission Chairman Phil Lyman, referring to Bears Ears and public lands fights (Lyman landed in jail recently for leading an ATV protest drive into banned areas). "It's good to have some positive news, something less controversial."
That county's 7.56 percent growth rate between July 1, 2015, and July 1, 2016, was No. 1 in the nation for counties with populations of at least 10,000, the U.S. Census Bureau reported Thursday. Far behind it at No. 2 was Kendall County, Texas, with a growth rate of 5.16 percent.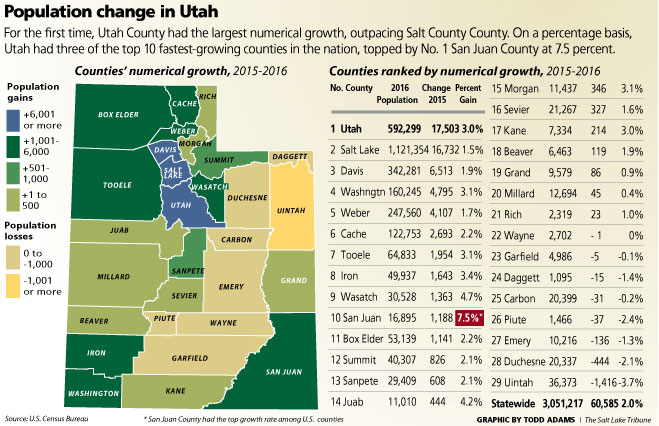 Two other counties in Utah also were in the Top 10 fastest growing nationally: Wasatch was No. 4 at 4.67 percent; and Juab was No. 9 at 4.2 percent. That is not too surprising because the Census Bureau announced in December that Utah had the nation's fastest growth rate in 2016 at 2.03 percent.
In new rankings of growth by metropolitan areas, also released Thursday, three Utah areas were also in the top 20 nationally: St. George was No. 6 at 3.08 percent; Provo-Orem was No. 7 at 3.06 percent; and Logan was No. 20 at 2.3 percent.
Finally, among the more eye-catching findings in the new numbers is that Utah County for the first time added more residents than the much larger Salt Lake County — 17,503 compared wth 16,732 during the year.
"They are half the size of Salt Lake County and have more growth. I think that's pretty telling of where Utah County is headed," said Emily Harris, demographic analyst at the University of Utah's Kem C. Gardner Policy Institute.
San Juan surge • Still, the biggest surprise in the numbers was that tiny San Juan County produced the nation's biggest growth rate.
In a county known for fighting federal control of public lands that its leaders say stifles the local economy, Lyman acknowledges that the new growth came because people are drawn to the area's beauty.
"It's a great place to live. I think the people who are moving in are not coming for jobs or the economy," because the area hasn't really added any, he said. "They are moving here because it's just a beautiful spot and beautiful people."
Lyman said he has not noticed much new construction or business, but vacant houses have been filling up. With fewer vacancies, "house prices have been going up significantly."
San Juan's population, as of July 1, is estimated at 16,895, up by 1,188 people.
"When you are so small, it doesn't take a whole lot to create a pretty good percentage bump," Lyman said.
While adding 1,188 people may not seem like that much — that is three times the population of Bluff in that county, or about a third of the population of the county's largest city, Blanding.
The Census Bureau figured that nearly 90 percent of the increase in San Juan came from domestic migration, with little from "natural increase," calculated by subtracting deaths from births.
"From these numbers, it's pretty clear that people are moving to San Juan County," Harris said.
She added that she and other analysts wondered if the Bears Ears controversy somehow might have contributed to drawing more people to the county. However, she noted that the new estimates are for the population there as of July 1, 2016 — which was before Bears Ears was designated as a monument by former President Barack Obama, although the prospect had been widely anticipated for months.
Wasatch, Juab growth • The other two Utah counties in the top 10 nationally — Wasatch and Juab — may have seen fast growth, in part, as spillover from the population centers of Salt Lake and Utah counties.
Glenn Greenhalgh, zoning administrator for Juab County, said that for most of the county's residents in Nephi and Mona, "It's 30 to 40 minutes to Provo and Orem, and it's an 80 mph speed limit half the way. So it's a nice commute."
More people are moving to Juab to take advantage of that, he said. "A good share of the people want to be where it is a little quieter and slightly less expensive — but still in commuting distance."
Doug Smith, planning director for Wasatch County, sees the same in his county.
"We've got decent commutes to Provo and Salt Lake" from Heber, he said. "I don't know how long that will last" with increasing traffic to both areas.
He said many new residents commute but want to be close to outdoor recreation offered in Wasatch County, including Deer Creek and Jordanelle reservoirs, Wasatch Mountain State Park and nearby ski resorts and national forests.
"It's a beautiful area. It's still a nice place to live. We're trying to manage as much as possible the transportation and traffic issues to keep it that way," he said.
New No. 1 • Harris says it is big news that Utah County surpassed Salt Lake County for the most new residents last year.
"Typically, we see Salt Lake County have more growth and more in-migration of people," but Utah County had been creeping up on it for years — and now finally passed it, she said.
The 17,500 total residents that Utah County added last year is roughly equivalent to the population of Highland.
Utah County is known for high birth rates and that is the source of most of the growth.
But Utah County also topped Salt Lake for in-migration.
The Census Bureau estimated Utah County gained 7,447 new residents from migration, while Salt Lake County drew 5,802.
Harris said much of that growth is in northern Utah County, near the "silicon slopes" area of Lehi that is also a hub for new businesses. At the same time, most growth in Salt Lake County is coming in its southern end — near the Utah County line.
Does that mean the two counties are melding into one metropolis?
"I don't know that I would say they are turning into one large metropolitan area, but you are definitely starting to see northern Utah County and southern Salt Lake County really starting to be a point of heavy development," Harris said.
"As far as the culture and people who are living in these counties, it's not going to be one massive area. But a lot of companies are probably going to come in and see it as one area," she said.
She said the "astounding growth" in Utah County is also why the Provo-Orem metro area — which includes most of that county and part of Juab — ranked No. 7 among metro areas nationally.
The St. George metro area ranked just ahead of it at No. 6 nationally. "St. George is just a booming area," Harris said. "We are starting to see them pick themselves back up after the recession. A lot of people are moving there. It's a really attractive area."
Areas in decline • While many Utah areas lead the nation in growth, others are losing population — mainly in areas that depend on coal, oil or natural-gas production.
"A lot of these energy counties are in a bust right now," Harris said, with low oil prices and declining demand and production of coal.
Growth was down in Uintah County by 3.7 percent; Duchesne by 2.1 percent; Emery, 1.3 percent; and Carbon, 0.2 percent.
Growth was also down in other struggling rural counties, which included Piute, down 2.4 percent; Daggett, 1.4 percent; and Garfield, 0.1 percent.