This is an archived article that was published on sltrib.com in 2014, and information in the article may be outdated. It is provided only for personal research purposes and may not be reprinted.
Sarah Schulz sat hunched against the wind Monday at the City Center TRAX stop, staring down the rails for her train. On her back, she carried her young daughter. In the next seat, her young son rummaged through a bag looking for a snack.
"We've been taking TRAX since we moved back to Salt Lake in November," Shulz said. "It's pretty easy. I don't take a stroller and we stay mostly in the free fare zone."
Schulz is a veteran of public transit — she used to ride the bus to kindergarten — but since moving to Utah's capital city, she's become part of a group that has sent Utah's ridership numbers soaring.
In 2013, Utahns took 44 million trips on trains and buses, according Utah Transit Authority spokesman Remi Barron. That resulted in a 3 percent increase in overall ridership — higher than the national average increase of 2.1 percent. Much of Utah's growing numbers came from FrontRunner riders, who increased by a whopping 103.26 percent in 2013, according to a report for the American Public Transportation Association. However, TRAX also saw increased ridership in 2013, growing by 6.8 percent.
Bus ridership decreased over the same period by 8.4 percent.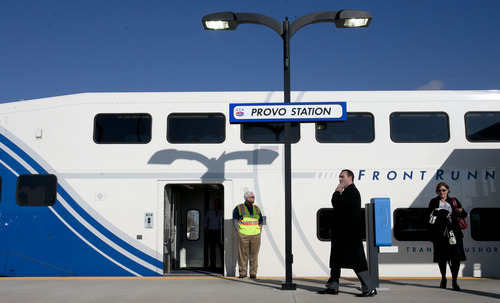 The projects were all part of UTA's $2.5 billion "FrontLines" effort, which Barron pointed out Monday finished two years early and $300 million under budget.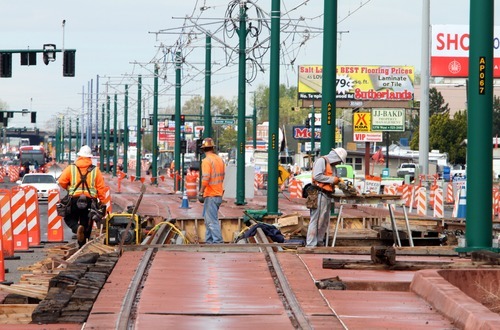 The new rail is apparently making a difference. Monday morning, David Brose, of Draper, stood on the Gallivan Plaza TRAX station waiting to head south. Brose is an infrequent train rider, but when he needs to visit Salt Lake, driving makes less and less sense.
"It's easier to take the train into the city," Brose explained.
One station north, at City Center, Tiffany Holmes had just finished working out Monday morning. Holmes has been riding TRAX almost daily for about two months. She usually stays in the free fare zone downtown and praised Utah's system as superior to the one she previously used while living in Colorado.
The result of riders like Brose and Holmes, along with the finished FrontLines projects, is about 120,000 fewer car trips per day, according UTA's chief planner Mike Sibul. That in turn reduces air pollution about 2,000 tons per year — an obviously positive result in a region plagued by dangerous smog.
Still, Utah is not a transit paradise — as Brose and Holms boarded their respective trains, they left mostly empty platforms. Sibul said UTA's goal is to change that; by 2020, the organization aims to double ridership to 88 million trips per year. In 2014 alone, the agency hopes to see a 4 percent increase. Both goals outpace expected population growth and Sybul described them as "aggressive."
To get there, UTA is getting creative. One of the more novel programs to launch recently is a partnership with Salt Lake City allowing residents purchase unlimited transit passes for $30 a month. The "Hive Pass" went on sale at the end of February and as of Monday about 600 people had purchased one, according to city spokesman Art Raymond. The pass is designed to be a big "carrot" incentivizing transit use.
"We hope to sell thousands of passes," Raymon explained. "Part of the underlying impetus here is to create new transit users."
Sibul also said UTA is rethinking its strategy. In the past, the goal was to shorten car trips; commuters could use the train or the bus, he explained, but they might drive the first and last miles. Now, UTA wants to fill in those gaps. Sibul pointed to Salt Lake City's year-old bike share program as one possible solution. Among other things, UTA also now plans to focus their time and resources beefing up the bus system — specifically with an emphasis on frequency — which received less attention during the recent rail build outs.