This is an archived article that was published on sltrib.com in 2014, and information in the article may be outdated. It is provided only for personal research purposes and may not be reprinted.
Daniel Nevot was supposed to land on Utah Beach for the massive D-Day invasion. His division was held back, but deployed two months later to fight German forces that had returned to the Normandy coast.
Formerly of France and now a U.S. citizen livingin southern Utah, Nevot is believed to be one of the last living members of the Free French forces, exiled men who fought alongside the Allies to take their country back from Adolf Hitler.
The 94-year-old Santa Clara man — who spent five years fighting Axis forces across two continents — has written down many of his memories of World War II in a still-in-progress memoir, which he shared with The Salt Lake Tribune.
What follows is a summarized retelling from that manuscript, which is a testament to the fighting spirit that helped save the world from Nazi domination.
"I wanted people to know," Nevot said during a recent phone interview, his French accent still strong.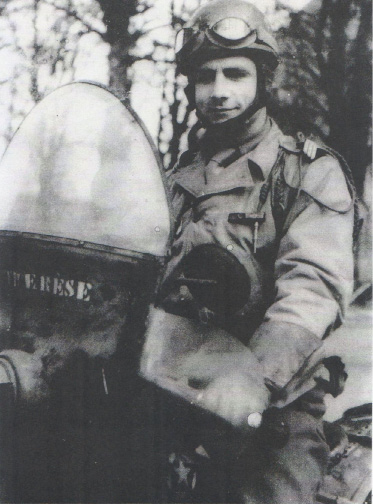 Nevot wasn't born a soldier. His father had fought in the First World War, but Nevot apprenticed as a baker, until pleurisy sent him to a sanatorium. He regained his health just in time. Nevot had always admired his father's uniform, and he was about to follow in his footsteps.
"With Hitler stirring up Germany, things were becoming increasingly unsettled all over Europe. I decided to think about the possibilities that the military offered. What adventures I could have!" Nevot recalls in his manuscript.
Life, though, had a complication for 18-year-old Nevot. Beautiful, vivacious Anna Marie Morville worked at the same restaurant that he did. They started dating; she loved to go dancing. Novet had fallen in love for the first time in his life.
Then Nazi Germany made its move to conquer Europe, and Morville's soldier was called to fight.
"I would have never imaged what lay before me… The War disrupted everything and I lost track of her," Nevot said of his sweetheart.
He was 19 when he and his fellow Frenchmen fought their way into Narvik, Norway, to help fend off the Nazis. The picturesque town, nestled in soaring mountains that plunge into chilly fjords, was a beautiful scene to admire "if it hadn't been for the shelling and shooting," Nevot recalled.
The Nazis fought back, forcing the Allies to retreat. Nevot and about 30 others were left behind to destroy supplies so that Nazis couldn't claim them. As the shelling came closer, Nevot and the others tried to escape in a fishing boat — but artillery capsized it, and Nevot fell into the dark, cold water. He was left adrift, hanging onto debris, until the British returned at dawn for survivors.
After the rescue, the resistance unit boarded a train in Brest for Belgium to reinforce other French troops. But after only a few miles, the train stopped. Word was the crew had abandoned the train with Nazis only miles away. Desperate and frightened, the passengers ran for the station they had just left. It was every man for himself. Nevot described it as "total chaos."
The Nazis had arrived too, and were already bombing the town's port. The last boat out was casting off while other boats burned and sank.
Nevot made a run for it. He didn't know where the remaining boat was going, and he didn't care.
"I got a running start and jumped maybe 4 or 5 feet and caught the rail," Nevot recalled. While others fell short and into the water, "two men on board grabbed me by the seat of my pants and pulled me on board."
The boat docked in Plymouth, England, where Nevot found himself among growing throngs of refugees from all across Europe. The Nazis took France, and Morville was captured and taken to Germany to work in its factories.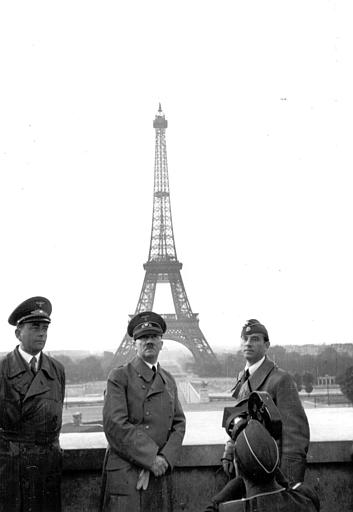 Gen. Charles de Gaulle — a leader of France's exiled government — took to the BBC radio waves. In his now famous speech, de Gaulle assured his countrymen that their war was not over, France was not lost, and together they could beat back the fascists.
"The fate of the world depends on it," de Gaulle pleaded on the radio. "… Whatever happens, the flame of the French resistance must not be extinguished and will not be extinguished. Tomorrow, as today, I will speak on the radio from London. Vive la France! Vive la France! Vive la France!"
The general formed the Free French, a resistance military force, and Nevot signed up. Their first assignment: take back Northern Africa.
The region was a "big surprise" for Nevot, who described it as a constant barrage of sights, smells and sounds that "continuously swirled around in the oppressive heat." The French colonists who were loyal to the new regime mocked Nevot's resistance fighters as "the clochard" (French for homeless). "Their attitude was 'the war for us is over, why bother to fight for a lost cause.' "
It took a grueling five months to reach Faya, the largest city in northern Chad and near the heart of the desolate Saharan Desert, where temperatures soar to 130 degrees in the day and drop to near-freezing at night.
Once they made it, Nevot and his allies tried to take a nearby fort called El Tag, an Italian-occupied oasis that boasted a rare and valuable airstrip. Locals loyal to the Axis Forces fought back in a week-long battle that scattered the British to Egypt and the French resistance back to Faya.
But Nevot and his men would not give up. They tried again, this time with help: armies from Chad and Congo. The battle raged for three weeks until the Italians finally gave up.
"When the Italian commandant of Fort Tag was asked why he surrendered, he replied that we had superior firepower," Nevot recounted. "He didn't know that it was [Chutzpah] and persistence."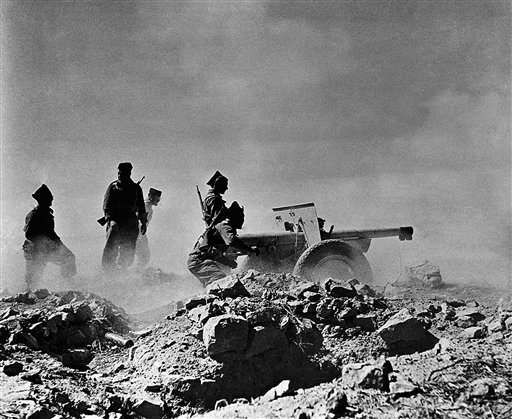 As the French resistance celebrated their first victory and raised their lost country's flag over the captured fort, Nevot's colonel pledged that they would never give up until their colors flew over Strasbourg Cathedral, which sits on France's border with Germany. Hitler had designs to transform the sacred Gothic cathedral into a Nazi monument.
Following the victory, Nevot became a member of The Scorpions, composed of small covert teams that stealthily drove trucks around the desert at night to attack Nazi camps. They blew up the Nazis supplies, keeping them busy.
But when a large group of The Scorpions were traveling in a convoy, Italian planes descended on them. Nevot told his driver to zig-zag so the planes couldn't get a good shot. But the driver froze. Nevot grabbed the wheel and tried to steer from his passenger seat — but a bullet to hit a tire and sent the truck rolling.
The crash killed their gunner, wounded the driver and another man, and Nevot was pinned under the overturned truck. As the planes kept strafing, trying to blow up the other trucks, gasoline and battery acid started leaking on Nevot.
"I managed to dig my way out… and crawl from under the wreckage," he recalled. The planes moved on, having largely decimated The Scorpions.
But by then, the Free French had done their job. Erwin Rommel, Hitler's "Desert Fox," was off balance and trapped.
A covert mission won Nevot a medal, his first of 17, and a promotion within the resistance.
Nevot, a lieutenant and a man named Gacia volunteered to sneak into and capture the desert fort El Gatroun. Disguised in robes, headdresses and goggles, they crept across the desert and through the fort's defenses to the commandant's office, where he was counting his soldiers' pay.
Nevot watched the door while the lieutenant and Gacia broke into the office. The lieutenant fired a round into the ceiling to punctuate his demand that the commandant surrender. But the commandant's secretary (another soldier) ran for it and Nevot ordered him to stop — "Halt! Halt!" he recalled shouting; when the soldier didn't, Nevot was forced to shoot him.
The commandant surrendered, and ordered his men at the fort to do the same.
They had captured a fort of 130 people with "1 dead and in 45 minutes," Nevot said, recalling the story from his Santa Clara home. Nevot was awarded the Croix de Guerre with palm and he was promoted to corporal.
The resistance kept moving through the desert for two years, beating back the Nazis in Tripoli, Libya and Tunisia. The war was turning. And with Rommel defeated, it was time for the Allies to invade France.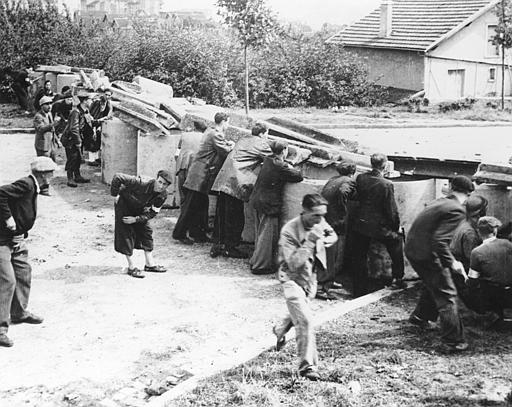 Nevot and his men were held back from the initial D-Day landing— "we were not ready," he recalled.But when they arrived on Utah Beach two months later, pockets of Nazi soldiers had moved back in.
"The Free French were so fired up at being able to take part in driving the German forces out of France that they fought recklessly and relentlessly," Nevot recalled. They kept on pushing toward Paris, "determined to restore the freedom, honor and pride of France."
As the resistance fighters took The City of Light back from the Nazis, Nevot described in an interview how crowds of excited people filled the streets, exclaiming, "Thank you, thank you." One woman even jumped on the back of Nevot's motorcycle and rode with him for 10 to 15 minutes, he said.
"The liberation of Paris was a very emotional experience," he adds in his manuscript.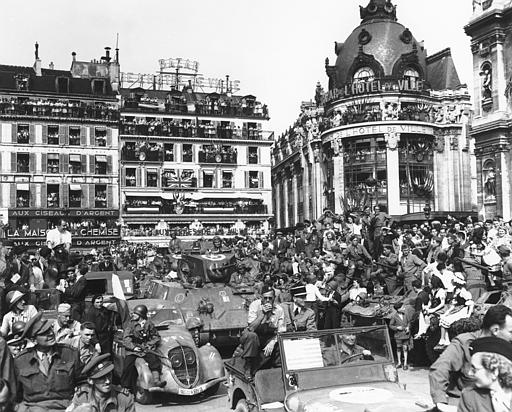 They went on and liberated Strasbourg, taking the cathedral back from Hitler and made good on the colonel's pledge.
"I was privileged to watch as one of the soldiers scaled the tall steeple of the cathedral and attached the French flag 'The Tricolor' to fly from the steeple of Strasbourg Cathedral," Nevot recalled in his manuscript.
They pressed on with the Americans into Germany, and the rest, as they say, is history.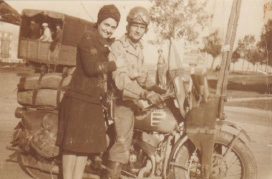 As a boy, Nevot had been a baker's apprentice who fell ill. Several years and the Second World War behind him, he returned home a decorated hero.
But Nevot still had one more mission ahead of him. The man who had ventured across steep mountains, icy fjords, a dangerous jungle, an unforgiving desert, and the beaches, forests and cities of a war-torn continent kept on going a little farther — to the little French city of Nancy, where he once fell in love with a vivacious dancer.
As he asked around for Anna Marie Morville, he found out that she, too — freed from her forced labor at the German factories — had found her way back home.
"I asked her to marry me," Nevot wrote.
A fencing John Wayne fan finds his way to America
Daniel Nevot felt a great respect for the American soldiers he fought alongside during World War II. So when he ex-patriated in the 1960s, that respect directed him to the United States. Of all the states, he chose Texas — because he loved John Wayne. He eventually found his way to Santa Clara after "my daughter Patricia married a man in Utah," Nevot said.
He started teaching fencing as a young man, and he continues that career at Dixie State University. —
D-Day: A list of celebrations and remembrances in Utah
The Fort Douglas Military Museum, 32 Potter St. in Salt Lake City, will have a program that begins at 3 p.m. with a color guard and costumed actors. At 5:30 p.m., the museum will show the "The Longest Day," the 1962 John Wayne film depicting D-Day.
Military vehicles from the 1940s and 1950s will convoy in the "D-Day Rollout 2014." The vehicles will depart Camp Williams, 17800 Camp Williams Road in Riverton, at 10 a.m. and arrive at the Fort Douglas Military Museum about 11:30 a.m. The vehicles will leave the museum at 12:30 p.m. to return to Camp Williams. Visit http://ddayrollout.blogspot.com for more information.
From 10 a.m. to 6 p.m., Thanksgiving Point in Lehi will display a restored M2A1 Half Track — half truck, half tank — and an Army Jeep and have a re-enactor on hand to answer questions. Admission is free.