This is an archived article that was published on sltrib.com in 2014, and information in the article may be outdated. It is provided only for personal research purposes and may not be reprinted.
FBI documents say investigators found child pornography on Josh Powell's computer at least 17 months before he killed his children and himself.
The FBI had two open investigations into Powell at the time of his death, the documents show. One was into the disappearance of his wife, Susan Powell. The second investigation was for what the FBI suspected was possession of child pornography.
Anne Bremner, an attorney for Susan Powell's parents, said the family was never told the FBI was investigating Josh Powell for child pornography. When told by The Tribune, Bremner was frustrated more information about that aspect wasn't shared with the Washington Department of Social and Health Services, who was in charge of the custody case for Josh and Susan Powell's two sons.
Bremner said if that agency had known the FBI suspected child pornography was on Josh Powell's computer, it "never would have let him have those kids."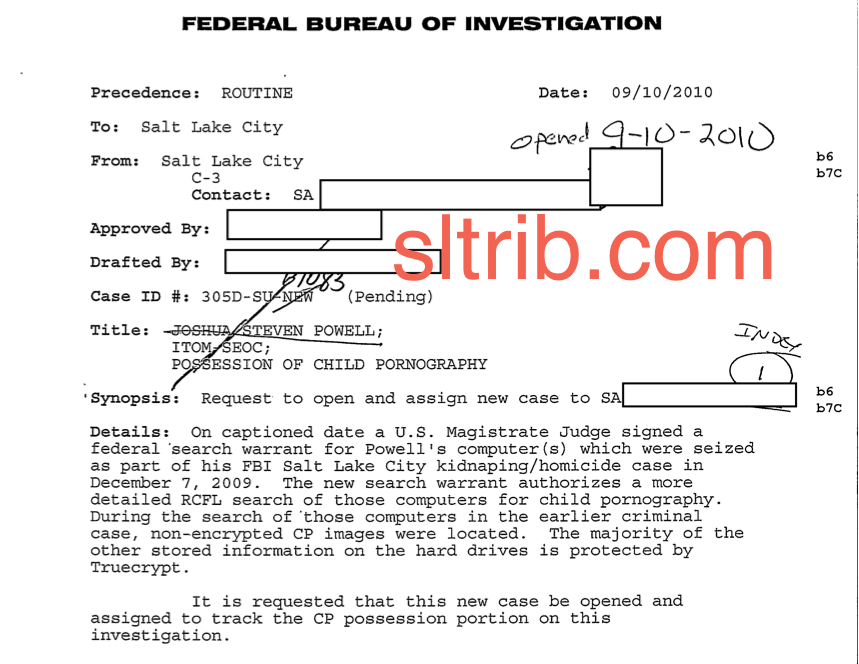 Josh Powell was allowed visitation with his sons. When a state worker delivered 7-year-old Charlie and 5-year-old Braden to Josh Powell's rented home in Graham, Wash., on Feb. 5, 2012, Josh Powell locked out the worker and ignited a fire that killed him and his sons.
Meanwhile, Susan Powell, who was last seen at her West Valley City home on Dec. 6, 2009, has never been found.
Melodie Rydalch, a spokeswoman for the U.S. Attorney in Utah, said the child pornography information was forwarded to authorities in Washington state because the computers were seized when authorities served a search warrant there.
FBI spokespeople declined to answer questions about the documents or the Powell case.
It's not the first time Josh Powell has been associated with child pornography.
At hearings in the state of Washington to determine custody of his children, then-Assistant Washington Attorney General John M. Long said Josh Powell was under investigation for child pornography after cartoon images of incest between mothers and children were found on his computer in late 2009 or early 2010.
In an interview Thursday, Long said neither the FBI nor other law enforcement told him anything other than that the cartoon images were found.
"Obviously, if there was something more serious than that it would have changed the whole dynamic of the" child-custody case, Long said. Long has since retired from the Washington attorney general's office.
The Tribune obtained the documents through the Freedom of Information Act, but the file has heavy redactions and the FBI omitted pages out of concerns about privacy and safeguarding FBI procedures and ongoing cases. The documents do not specify what the images showed or depicted.
The legal status of animated child pornography can be murky. A federal statute makes it a crime to possess animated images depicting children in sexually explicit activity, but those cases tend to bring legal challenges based on what the images depict and whether they can be considered free speech.
"The question is," said University of Utah law professor Paul Cassell, " 'Are the images specifically graphic enough to qualify as child pornography?' "
The FBI opened the child pornography case on Sept. 10, 2010. It appears the FBI was trying to discover whether there were more compromising images on Josh Powell's computer, but was stymied. Josh Powell encrypted much of the data on his computer.
West Valley City police have said that no one — either in the federal government or the private sector — has been able to decode the encryption Josh Powell used.
The FBI provided fewer documents on what it labeled as the kidnapping and homicide investigation. West Valley City led that investigation.
Three days after Josh Powell killed his sons and himself, West Valley City police believed it was "an ideal time," according to the documents, to interview Josh Powell's father, Steve Powell.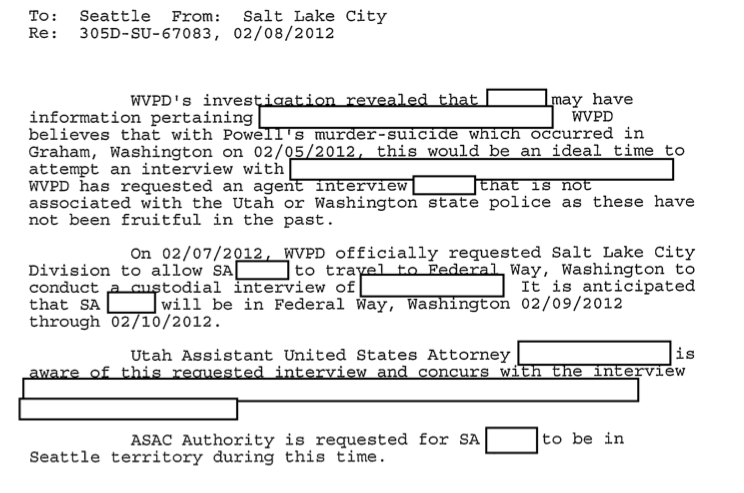 The patriarch was in a jail in Tacoma, Wash., awaiting trial on charges related to photographing neighbor girls in various states of undress. Steve Powell's name is redacted but the description and location of the interview indicates he was the interviewee.
"WVCPD has requested an agent interview REDACTED that is not associated with the Utah or Washington state police as these have not been fruitful in the past," an FBI report says.
What, if anything, Steve Powell told agents is redacted.
Steve Powell has said he does not know where his daughter-in-law is. He gave interviews to West Valley City police in the early days of the investigation, but has not cooperated with law enforcement since.