This is an archived article that was published on sltrib.com in 2014, and information in the article may be outdated. It is provided only for personal research purposes and may not be reprinted.
Marvel's archer superhero Hawkeye, who recently lost his hearing, got a helping hand from an empathetic Utah mother, whose own daughter is deaf, too.
Hawkeye, whose real name is Clint Barton, damaged his hearing years ago in a fight and wore hearing aids for a while. That eventually was written out of the comics — which the current writer of the Hawkeye series, Matt Fraction, felt was a shame. The deafened Hawkeye had been an inspiration for children such as 4-year-old Anthony Smith, who didn't want to wear his own hearing aids because superheroes don't have them. After his mother reached out to Marvel Comics, the publisher told him about Hawkeye and sent him a drawing of a newly created, hearing aid-wearing superhero named Blue Ear in a team-up with the archer Avenger. After that, Anthony started wearing his hearing aids.
So this past July, Fraction gave Hawkeye his hearing loss again in Issue No. 19. Fraction had been inspired by a Salt Lake City area woman, Rachel Coleman, who hosts a program called Signing Time, which teaches children American Sign Language. Rachel Coleman's deaf daughter Leah appears on the show.
Coleman and Fraction were already friends through social media and met in person at a Signing Time concert in 2012. Fraction's son, who is not deaf, still watches Coleman's show. The writer was fascinated, struck by the similarities between signing and the visual communication of comics.
"They watched [my daughter] Leah grow up on Signing Time," which provided Fraction a perspective into the world of signing, Coleman said. At brunch, Fraction told Coleman about Hawkeye's history with deafness and that he would look for the opportunity to write it back into the character.
A year later, Fraction sent Coleman a draft of Issue No. 19, making good on his word. Hawkeye was deaf once again, in a comic that was largely "silent" and filled with sign language graphics to communicate information.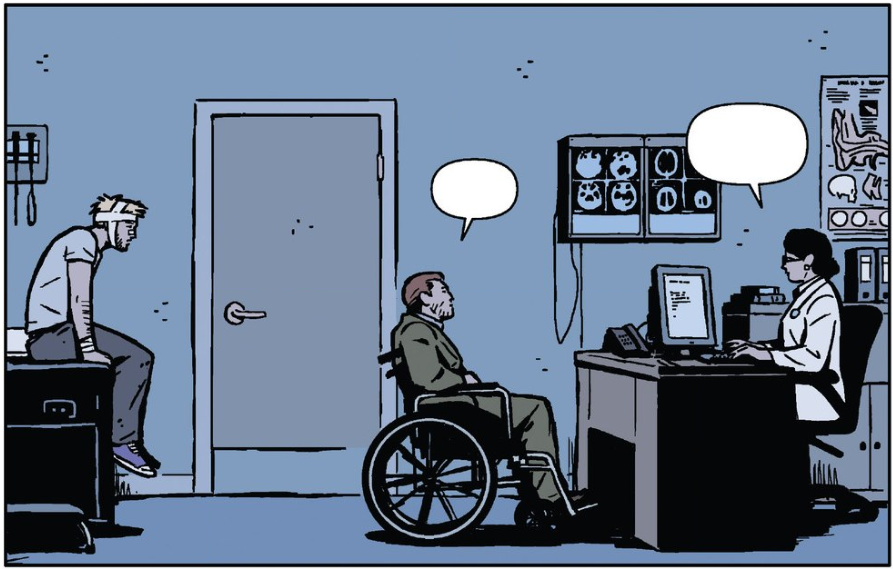 "I read it with my daughter, Leah," Coleman says on the Signing Time blog. "… She saw that the speech bubbles were empty when Hawkeye's back was turned or if he didn't have a face-to-face conversation, and she got really excited. She said, 'That is exactly what it's like when you're deaf!' "
As the artist David Aja put it on Twitter: "If while reading Hawkeye #19 you feel you don't get it all, if you find obstacles, congrats, you're starting to learn what being disabled is."
The issue was released July 30, with a dedication to Leah Coleman on the title page, to much acclaim. The New York Times spotlighted the comic, and it received a full five stars at Comic Book Resources.
One reviewer, Timothy Merritt of the Coming Up Comics blog, had been looking forward to the issue ever since hearing the premise. Merritt's 8-month-old son was born deaf in one ear.
"Much of the issue is completely wordless, with infographic-like ASL signs put in sequence as [Hawkeye]… both tries to deal with the frustration of communicating and his own personal embarrassment of having to resort to signing," Merritt wrote in his review. "Having experienced a similar hearing trauma in his youth, he has knowledge of ASL, but he initially doesn't want to use it, much to the chagrin of his brother Barney who tries to get through to him."
The comic is frustrating and confusing to read for anyone who doesn't know sign language, "and that's precisely the point," Merritt wrote, adding that the move was brilliant. "There is no accompanying translation because being deaf doesn't come with a translate button, and by leaving things as they are we literally experience the frustration right alongside the characters."
Merritt describes in his review how he had been on the fence about whether to teach his son sign language, figuring he would "do OK" since he's only deaf in one ear. But the comic changed his mind. Sign language "opens up an entirely other path of communication," cutting down on young children's frustrations of "having a voice trapped in their head when they're trying to get something out," Merritt wrote.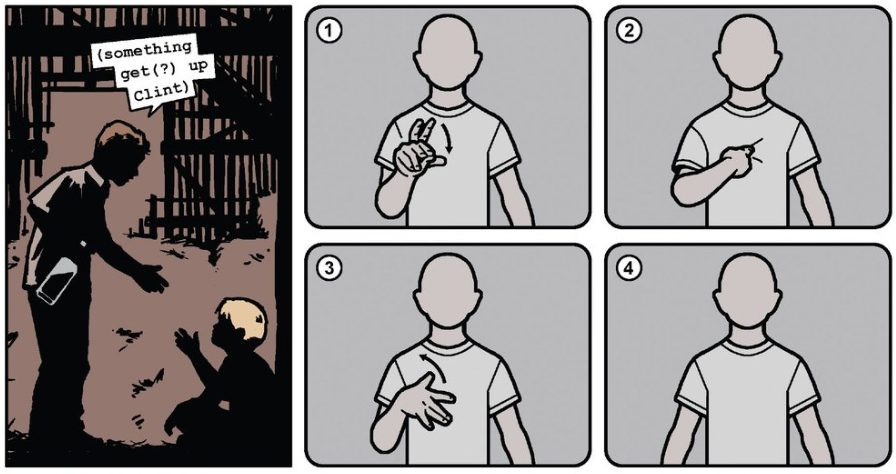 Comics reviewer Clint Nowicke, in his review, loved when an obstinate Hawkeye tried to rely on lip-reading and missed parts of what people were trying to tell him. Nowicke is deaf, and, before this comic, had "never been able to demonstrate what it's like to rely so heavily on lip-reading," he wrote in his review at the website Pop Mythology.
"But this issue made it perfectly clear in only a few panels," he wrote. "And I am not sure if Matt Fraction realizes how amazingly accurate he wrote those moments."
He just might, thanks in part to Rachel and Leah Coleman. The Utah mom is thrilled.
"People who may have never thought about being deaf or what that's like are going to walk into a store, purchase this issue and open it to discover another world," she said in the blog post. "Isn't that what comics are about?"
Fraction's involvement with Signing Time didn't stop with consulting with Coleman, either.
The clothing company We Love Fine created a T-shirt inspired by the issue, with "Hawkeye" spelled out in sign language across the front. Fraction is donating his commission from the profits to Signing Time.
The "Hawkeye" comic was already the subject of much critical praise for its innovative storytelling since before Issue No. 19. Its 11th issue was told from the perspective of Hawkeye's dog, who understands the world primarily through scents and select words such as "you" and "up"; it won the Eisner Award (the comics equivalent of an Oscar) for the best single issue of 2013.
On Sept. 6, Signing Time is holding a 10 a.m. concert at 870 E. North Union Ave. in Midvale. For more information, visit signingtime.com.