This is an archived article that was published on sltrib.com in 2017, and information in the article may be outdated. It is provided only for personal research purposes and may not be reprinted.
It's been a long haul for a trio of Grantsville seniors and a fourth-year coach.
Rylie Elkins thinks back to an early December contest in 2013 as an example of the stumbles along the way. The second game of her freshman season was a 51-24 victory over Layton Christian. It ended Grantsville's 55-game losing streak, which had stretched over two complete seasons and parts of two others.
"It was like we won the state championship. We went crazy," Elkins said.
Now the Grantsville girls' basketball team is chasing the real thing.
The Cowboys are region champs. They boast at 20-2 record. And they host North Sanpete, a team they beat by 40 points earlier this season, in the first round of the Class 3A state playoffs.
This kind of ending wasn't always easy to see for coach Megan Vera, who graduated from Grantsville 10 years ago and easily can be mistaken for one of the current players.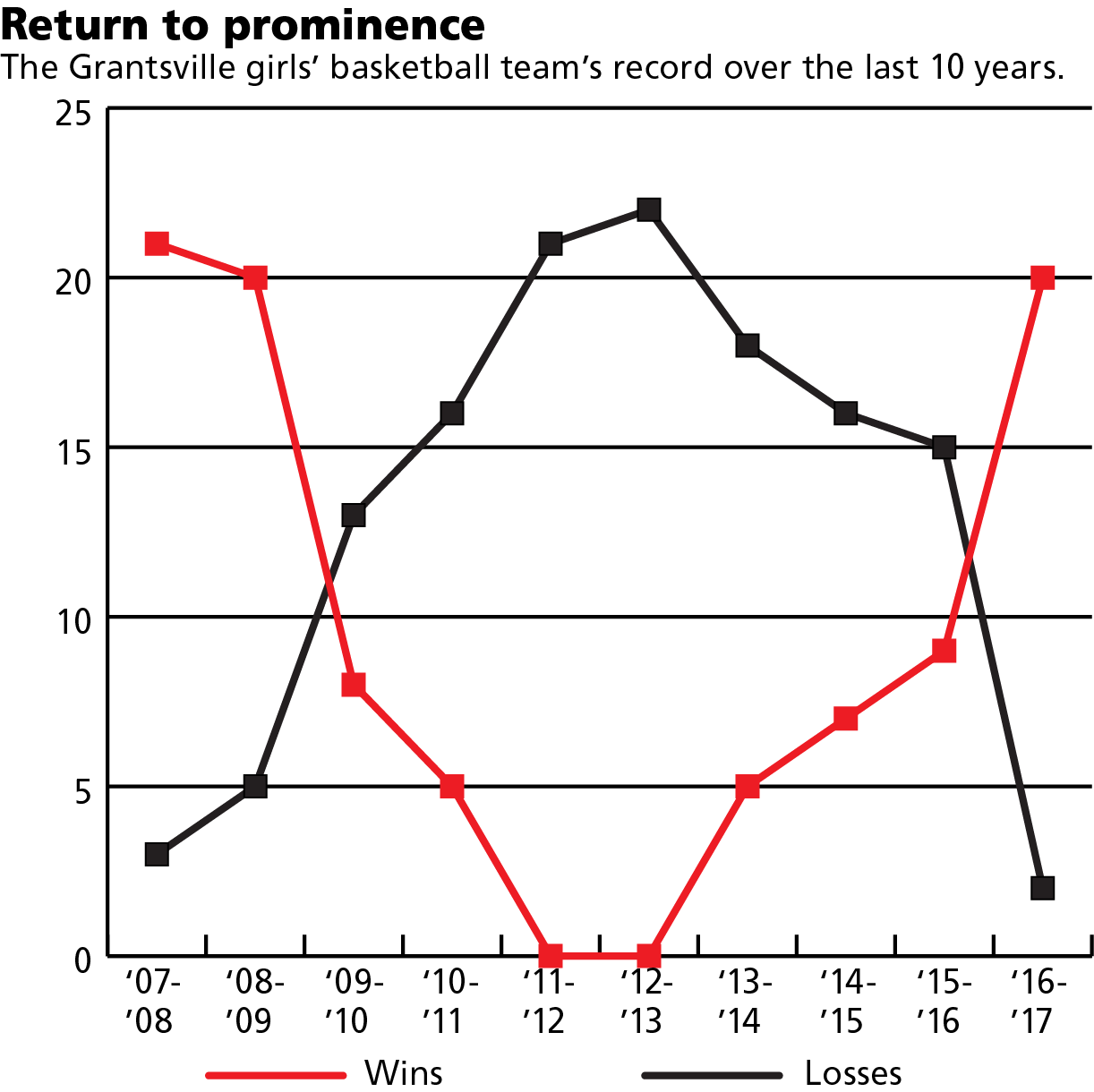 Even last year, Grantsville finished 9-15 overall. But it's nothing compared to what had happened to the program in the years just before Vera took over.
The slide started at the end of the 2010-11 season, when Grantsville lost its last 11 games. The next two seasons were 0-21 and 0-22 campaigns.
Only a couple years before, in Kenzie Newton's last year of coaching Grantsville in 2008-09, the team had gone 20-5 overall and 9-1 in region
So when Vera took over, knowing how things had gone sour so quickly, she decided to take the long-term building approach.
And it started with the likes of freshmen Abby Butler, Elkins and Brayle Crosman.
"It was actually kind of exciting because I had a chance to come make a difference, and you would be able to see the difference you were making," Elkins said.
Those three, now seniors, are the double-digit scorers for Grantsville. But even back then, when the 9th-graders were part of a 5-18 team in Vera's first year, Butler and Elkins were the two leading scorers for the 2013-14 squad.
"We knew that there was potential, but we knew that we would have to focus young," Vera said. "I think that's just an important part of rebuilding. You've got to start young and then build it up.
"These seniors have really paved the path for the rest of the girls. Now we've got 5th-grade girls playing for the AAU program," Vera added. "We've really focused on building a program not just for this year, but for years to come."
Butler, Grantsville's leader in points (13.4) and rebounds (8.1) per game, is intent on stretching out the "this year" part of the process as long as she can. She has taken note that some have critiqued the overall strength of Region 10 and have not predicted a long postseason run for the Cowboys.
"I would just say not to look at who we've been playing, but look at how we're playing," Butler said. "We have played against tough teams. Union is tough at Union after a four-hour drive, and Stansbury is super-tough.
"No one really expected this from us, but we came out and worked super, super hard in the offseason, and that's been the difference."
Defending champ • Snow Canyon
Favorite • Desert Hills enters as the Region 9 champion with Ashley Beckstrand leading the Thunder at 19.4 points a game.
Dark horse • Carbon has won five straight and finished tied with Richfield at 7-1 in Region 12.
Players to watch • Brookelyn Hurlbut, Sr. Morgan, 18 ppg, 9.5 rpg, recorded 11 double-doubles this season; Lindsey Blanc, Sr., Carbon, 13.7 ppg, 3.4 spg, finished with at least four steals in nine games this season; Carly Blake, So., Union, 10 ppg, 9.1 rpg, grabbed at least 10 rebounds in seven games; Becca Curran, Sr., Juan Diego, 10.1 ppg, 4.6 rpg, averaging four steals over last four games; Jayden Langford, Jr., Hurricane, 12.7 ppg, 6.2 rpg, scored at least 11 points in six of last seven games
4 p.m. • Ridgeline at Desert Hills
5 p.m. • North Sanpete at Grantsville
5 p.m. • Logan at Cedar City
6 p.m. • Hurricane at Morgan
7 p.m. • Stansbury at Carbon
7 p.m. • Snow Canyon at Juan Diego
7 p.m. • Tooele at Richfield
Favorite • The Flyers have all the components to make another run behind tall post Richard Guymon and a plethora of good guards. But Dixie stumbled twice in region — at Desert Hills and Pine View — and the Thunder ended up taking the top seed in Region 9 by winning its last eight games.
Dark horse • Juan Diego only suffered one loss to a Utah opponent — a 52-48 setback at Ridgeline. The Soaring Eagle made it to the state championship game last season.
Players to watch • Jaxon Brenchley, Sr., Ridgeline, 19.7 ppg, will continue career at the University of Utah; Trey Farrar, Sr., Pine View, 20.4 ppg, 9.1 rpg; Logan Hokanson, Sr., Desert Hills, 15 ppg, scored at least 17 points in seven of last eight games; Brantzen Blackner, Jr., Canyon View, 18 ppg, scored at least 20 points eight times, including last three games; Trevor Colson, Sr., Grantsville, 12.3 ppg, 7.8 rpg, shooting 54 percent from the floor this season
6 p.m. • Hurricane at Ridgeline
6 p.m. • Bear River at Desert Hills
7 p.m. • Stansbury at North Sanpete
7 p.m. • Carbon at Tooele
7 p.m. • Union at Canyon View
7 p.m. • Richfield at Grantsville
7 p.m. • Pine View at Juan Diego
Feb. 25 • Championship game
8:30 a.m. • North Summit vs. Millard
10:10 a.m. • North Sevier vs. Rowland Hall
11:50 a.m. • Kanab vs. Maeser Prep
1:30 p.m. • Wasatch Academy vs. San Juan
3:10 p.m. • Beaver vs. Summit Academy
4:50 p.m. • Layton Christian vs. Gunnison Valley
6:30 p.m. • Emery vs. Waterford
8:10 p.m. • South Summit vs. Enterprise
8:30 a.m. • Summit Academy vs. Beaver
10:10 a.m. • Grand County vs. Rowland Hall
11:50 a.m. • South Sevier vs. Providence Hall
1:30 p.m. • Layton Christian vs. San Juan
3:10 p.m. • Enterprise vs. South Summit
4:50 p.m. • Waterford vs. Manti
6:30 p.m. • Emery vs. Rockwell
8:10 p.m. • North Summit vs. Delta
Feb. 25 • Championship games
Tabiona 42, St. Joseph 30
Bryce Valley 53, Monument Valley 33
6 p.m. • Bryce Valley vs. Panguitch
7:30 p.m. • Monticello vs. Tabiona
5 p.m. • Championship game
comments powered by

Disqus