This is an archived article that was published on sltrib.com in 2014, and information in the article may be outdated. It is provided only for personal research purposes and may not be reprinted.
The pictures above show the gradual removal of the buildings currently occupying the UPAC site. It's easiest to follow the demolition of the red brick building on the corner — most recently home to Bennion Jewelers — but the project also involves removing several smaller structures, as well as the home of the old Salt Lake Tribune printing press.
The best way to keep your bearings in the above pictures is to look for the grayish-white Prudential Building, which sits right in the middle of the demolition site. It kind of looks like it has a modern version of flying buttresses at the top. The building is south of the red brick structure and north of The Tribune press buildings.
The Prudential Building is slated for demolition too, but as of now still stands in the middle of the site.
The picture below also shows a model of the entire site.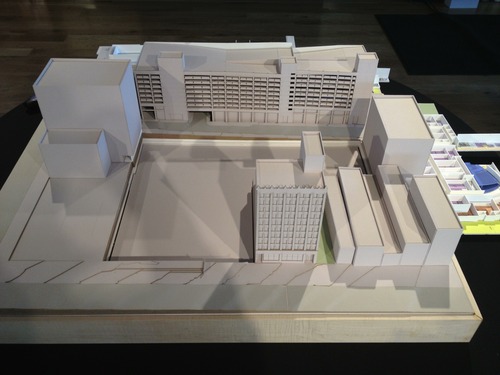 comments powered by

Disqus